I love making buttons. They're fun, there's a huge variety, and they make an incredible difference to a site. The size, color, shape, and style of your buttons can trigger a difference the conversion rate of an e-commerce site. Buttons that stand out from the rest of the site's designs are essential – if they blend in and match too closely, users overlook them.
So if you're looking for a new look, here are some absolutely free add to cart buttons that I made for sharing. No payment required, no link back needed (though it's appreciated if you want!). If you use them, leave a comment so others can take a look, if you feel like it. Regardless…enjoy!
Each ZIP file contains the original Adobe Photoshop .PSD file, "Buy Now" and "Add to Cart" versions of the buttons, and a blank button for you to add your own text. Several buttons are provided in multiple colors.
Free Add to Cart Buttons
Button 1
Button one is a dark gray button with yellow text. It has a slight 3D effect that actually works a little better on circular buttons, but isn't bad at all on this one. If you're sticking to a monochromatic theme, this adds a bit of color without being overwhelming.
Button 2
Button two is a shiny "Web 2.0" button with a nice shine, in several bright colors to complement many sites.
Button 3
Button three is also a shiny one, but has a nice touch of a faint diagonal stripe to it. I also made it in several different colors.
Button 4
Button four has a faded drop-shadow and a circular area for an icon. It's shown here with a shopping-cart icon, but could be replaced with other graphics as desired.
Button 5
Button five has a glassy feel, but is in the shape of a heart instead of a normal button shape. Linda Bustos and Brian Eisenberg have discussed unusual shapes for buttons in other places, so here's a non-traditional shape in a few colors.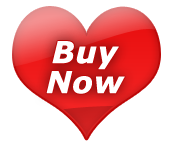 Button 6
Perhaps an arrow might be more widely suited to e-commerce sites than a heart – plus it conveys a sense of action (moving forward to the next step). So if you like this idea, here are a few arrow buttons for you.
Button 7
Now we're getting away from the shiny plastic buttons (which I'm sure you can tell, I love!) and moving into something a little more traditional – but with a couple of twists. Button seven has a metallic border and a small watermark-style icon in the lower right corner. I like the variety you can create with the icons, and Photoshop comes with so many shapes that you can make and endless assortment along these lines. You can even make seasonal buttons.
How to Use These Free Add to Cart Buttons
These files are free for you to use and no attribution is required. You're welcome to link back to netblazon.com but you definitely don't have to!
Each file comes with PNG buttons that you can drop directly into your e-commerce site's templates. If you prefer more control, you can use graphics software like Photoshop to add different text over a PNG. I even included the layered PSD files so that, if you have deeper knowledge of image software, you can do things like change the colors, shapes, or size.